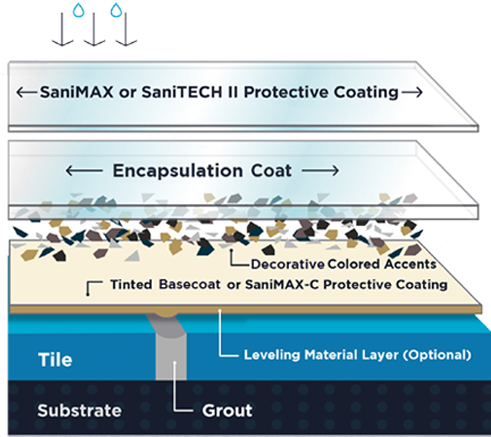 VariGLAZE MAX™ is an advanced HIGH BUILD restorative bonding process utilizing three layers of very durable coatings, plus densely arranged decorative choice of accent chips or quartz, that overlays the entire surface. The base is a pigmented coating available in a choice of colors; the top coat is a clear coating. This process will change the color of both the tile and grout to create a neat, unified look utilizing a dense high-build system. A special compound of micro-particles can be added to enhance appearance and improve the coefficient of friction. VariGLAZE MAX provides greater depth and a higher level of appearance than its predecessor, VariGLAZE, along with the ultimate in protection.
Where and When to Specify?
VariGLAZE MAX™ is specified for all tile and hard floor surfaces. It is recommended for surfaces that need a color and décor change; and for situations where a high build exceptionally durable coating is required.
Step 1
Clean and prep entire surface using SaniGLAZE's XcelKLEEN℠ process to remove contaminants and to prepare tile and grout for application of SaniGLAZE® coatings.
Step 2
Install SaniPOXY® or SaniMAX protective shield colored with SaniTINT® over the entire surface.
Step 3
Apply decorative SaniCHIPS® or SaniQUARTZ® over the shield.
Step 4
Install SaniPOXY high build encapsulate over the entire surface.
Step 5
Install SaniTECH II or SaniMAX® protective shield and Textite® slip reducer over the SaniPOXY® encapsulate.
Primary Products Used
Surface Shield Group:
SaniPOXY®: Extremely durable, HIGH BUILD, pigmented and clear, topical coating that forms a base and also encapsulates the selection of decorative accent flakes or quartz.
SaniMAX-C®:

Extremely durable, pigmented topical coating based on the revolutionary new Xolite® polymer that is suitable for a wide variety of surfaces. Available in a variety of colors.
SaniMAX® or SaniTECH II: Extremely durable, clear topical coating based on the revolutionary Xolite® polymer that is suitable for a wide variety of tile & grout surfaces, concrete, and other hard surfaces
SaniCHIPS®/SaniQUARTZ®: An array of accent flakes and particles available in various sizes and color schemes that are comprised of
water based resin materials and inorganic minerals. They are used to coordinate hard surfaces with any décor.
Textite®: A compound of micro-particles that can be added to SaniMAX-C® or SaniMAX® to improve the coefficient of friction (COF) and improve appearance. Available in various particle sizes to create the desired COF.
Restores surface to a brand new appearance
Prevents soil and moisture penetration
Anti-microbial top coat controls bacteria,
mildew and mold
Eliminates expense of replacement