Wait! Before you remove that old tile, see how SaniMAX-C can turn your older facility into a NEW environment…with COLOR!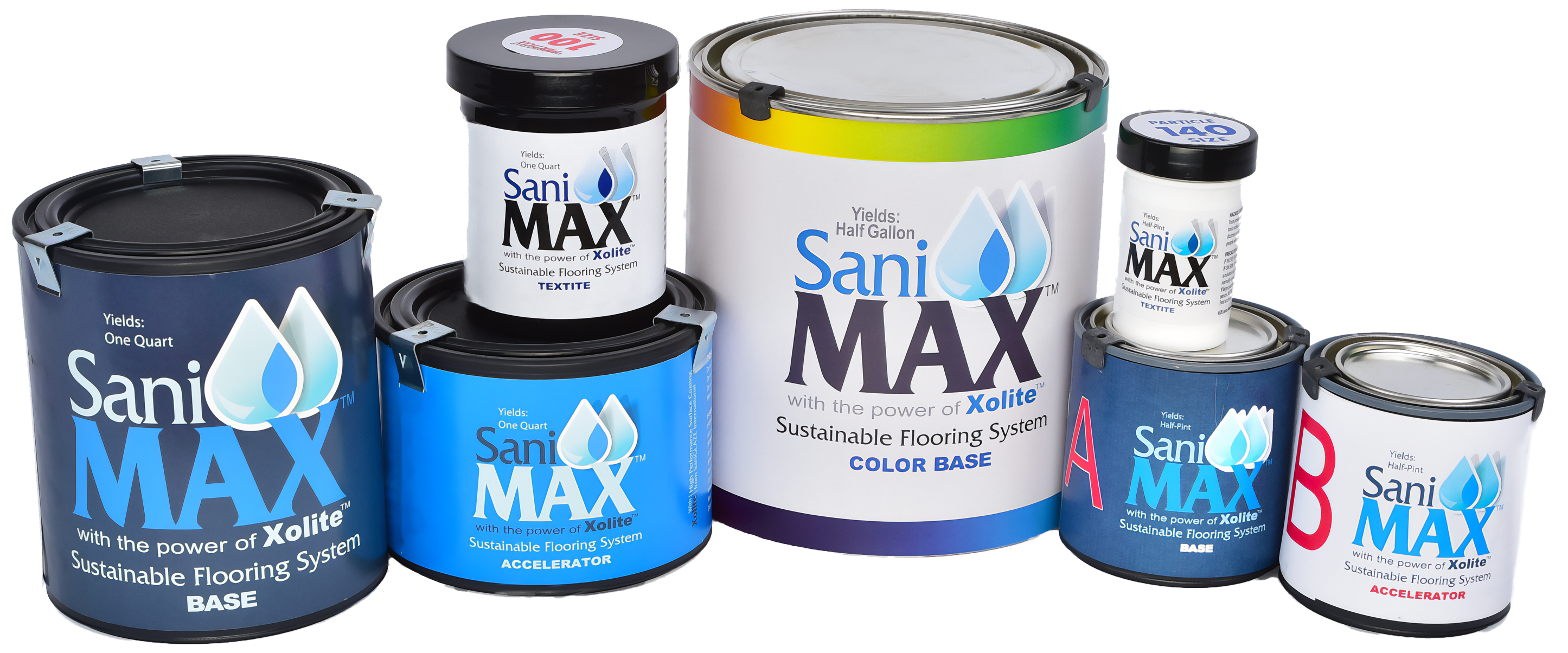 SaniMAX-C is the latest evolution in hard floor surface protection. Not only can you save your old tile and grout surface, SaniMAX-C allows you to add an entirely fresh new color to your restoration!
SaniMAX-C is different than traditional epoxy based systems.
Epoxy based systems are just okay. They provide some level of basic protection but over time they get brittle, they chip and they flake. And, of course, they fade because of UV instability.
SaniMAX-C solves this problem with its brand new polymer technology called Xolite. The resins in Xolite, unlike epoxy based systems, form an incredibly strong cross-link structure, creating an impenetrable surface that provides the best protection and easiest cleaning of tile and grout.
SaniMAX-C color system
SaniMAX-C has all the features of SaniMAX with the added benefit of color! Imagine tile colors chosen and installed decades ago given a completely new look and color without the cost of new tile. SaniMAX-C is perfect for these surfaces:
FLOORS: SaniMAX-C gives a floors a new look in a variety of designer colors with a safe surface texture.
WALLS: SaniMAX-C gives dull wall tile a new dazzling high gloss finish that's graffiti resistant.
HIGH USE AREAS: SaniMAX-C gives food service, restrooms and other heavy abuse areas extra protection from harsh chemicals and heavy traffic.


Here is why SaniMAX-C is quickly becoming a favorite solution of facilities managers who want long lasting and easy to maintain tile and grout surfaces.
SaniMAX-C transforms with color with hundreds of designer colors to choose from.
SaniMAX-C is resistant to staining, scuffing, scratching, and scorching.
SaniMAX-C is completely UV stable.
SaniMAX-C has Xolite, a new and unique polymer that will not react with most harsh chemicals and it's resistant to hand sanitizers, uric acid, bowl cleaner, lubricants, oils, fluids and other caustic compounds.
SaniMAX-C is extremely easy to clean because it's resistant to water, dirt, and even graffiti.
SaniMAX-C is resistant to pathogens because bacteria have a hard time attaching to the non-stick surface.
SaniMAX-C can be rejuvenated without damage to tile, another distinct advantage over epoxy and other high tech coatings.