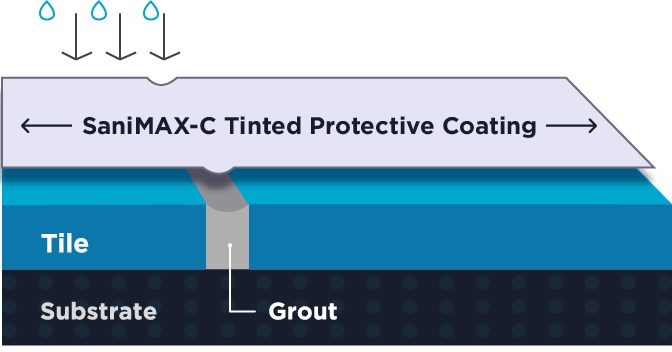 ChromaGLAZE℠ is a restorative bonding process utilizing a very durable, pigmented coating to overlay the entire tile & grout surface. This process will change the color of both the tile and grout to create a neat, unified look. A special compound of micro-particles can be added to enhance appearance and improve the coefficient of friction. ChromaGLAZE℠ provides an exceptionally high level of appearance and protection.
Step 1
Clean and prep entire surface using SaniGLAZE's XcelKLEEN℠ process to remove contaminants and to prepare tile and grout for application of SaniGLAZE® coatings.
Step 2
Install SaniMAX-C® protective shield over the entire surface.
Primary Products Used
Surface Shield Group:
SaniMAX-C®: Extremely durable, pigmented topical coating based on the revolutionary new Xolite® polymer that is suitable for a wide variety of tile & grout surfaces. Available in a variety of colors.
Textite®: A compound of micro-particles that can be added to SaniMAX-C or SaniMAX to improve the coefficient of friction (COF) and improve appearance. Available in various particle sizes to create the desired COF.
Restores surface to a brand new appearance
Prevents soil and moisture penetration
Repels bacteria, mildew and mold
Eliminates expense of replacement