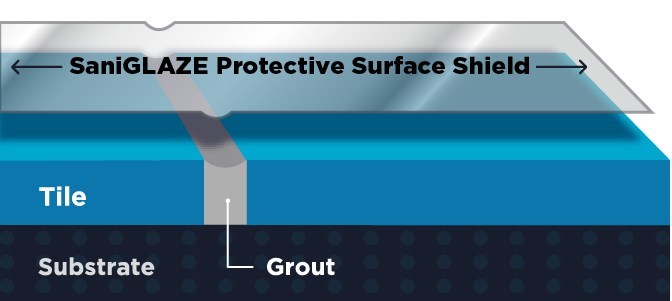 SurfaceGLAZE℠ is a protective bonding process for tile surfaces. A specialized clear protective coating is installed to shield the entire surface. This process will restore the natural color and original luster of the tile in most cases. The grout joints will be cleaned and shielded by the same coating used on the entire surface area; they will remain their original color. SurfaceGLAZE℠ enhances appearance and provides a layer of protection.
Step 1
Clean and prep entire surface using SaniGLAZE's XcelKLEEN℠ process to remove contaminants and to prepare tile and grout for application of SaniGLAZE® coatings.
Step 2
Install SaniMAX-C® protective shield over the entire surface.
Primary Products Used
The coatings specified for the SurfaceGLAZE℠ Process depend on several factors. Your SaniGLAZE® service professional can advise you on which coating is best.
Surface Shield Group:
SaniMAX®: Formulated from Xolite®, a revolutionary polymer that is ultra-durable and very easy to clean.
SaniTECH II®: Urethane based coating formulated for heavy use and high maintenance areas.
Super Shield®: Durable, clear topical polymer coating suitable for a wide variety of tile types.
SaniSEAL®: An exceptional penetrating sealer (impregnator) used for quarry, brick paver and Saltillo tile; and situations where a topical coating is not recommended.
Improves appearance of tile surface
Protects against soil and moisture penetration
Repels bacteria, mildew and mold